Past Events: 2008
| Upcoming Events | 2011 Events | 2010 Events | 2009 Events | 2008 Events | 2007 Events | 2006 Events | 2005 Events | 2004 Events | 2003 Events |
We are proud of our political/social education, fundraising, community outreach, and other activism events! The events listed below were presented, hosted, or strongly supported by Merriam Park Neighbors for Peace or our members during 2008.
Winter 2008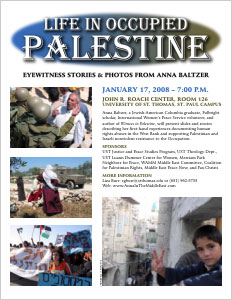 Life in Occupied Palestine:
Eyewitness Stories & Photos from Anna Baltzer
Thursday, January 17, 2008
7:00 p.m.
John R. Roach Center for the Liberal Arts, Room 126
University of St. Thomas, St. Paul Campus
Anna Baltzer, a Jewish-American Columbia graduate, Fulbright scholar, International Women's Peace Service volunteer, and author of Witness in Palestine, will present slides and stories describing her first-hand experiences documenting human rights abuses in the West Bank and supporting Palestinian and Israeli nonviolent resistance to the Occupation.
Maps
University of St. Thomas Campus Map
Google Map (Summit Avenue at Cleveland Avenue, St. Paul, MN)
Flyers
Click here to print a flyer for this event.
Sponsors
UST Justice and Peace Studies Program, UST Theology Department, UST Luann Dummer Center for Women, Merriam Park Neighbors for Peace, WAMM Middle East Committee, Coalition for Palestinian Rights, Middle East Peace Now, and Pax Christi
More Information
Liza Burr: egburr@stthomas.edu or (651) 962-5733
Web: www.AnnaInTheMiddleEast.com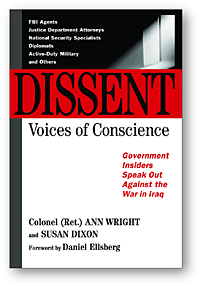 Colonel (Ret.) Ann Wright
Dissent: Voices of Conscience
Government Insiders Speak Out Against the War in Iraq
Sunday, February 17, 2008
6:30 p.m.
John B. Davis Lecture Hall, Campus Center, Macalester College
1600 Grand Avenue, St. Paul, MN
During the run-up to war in Iraq, Army Colonel (Ret.) and diplomat Ann Wright resigned her State Department post. She was one among dozens of government insiders and active-duty military personnel who leaked documents, spoke out, resigned, or refused to deploy in protest of government actions they felt were illegal. In Dissent: Voices of Conscience, Ann Wright and Susan Dixon tell the stories of these men and women, who risked careers, reputations, and even freedom out of loyalty to the Constitution and the rule of law.
At this February 17 event, Col. Ann Wright will discuss and answer questions about her book. Coleen Rowley will introduce Col. Wright. The presentation will be followed by a casual reception and book signing. Copies of Dissent: Voices of Conscience will be available for purchase from Magers & Quinn Booksellers.
This event is free and open to the public. Donations will be accepted to cover costs.
More Information
Sponsor: Merriam Park Neighbors for Peace
E-mail: info@mppeace.org
Phone: Krista (651) 641-7592 or Anne (651) 647-0580
Web: www.mppeace.org/annwright
Flyer & Maps
Download and print a PDF flyer for this event
View a map to Macalester College.
View a map of the Macalester College campus. The John B. Davis Lecture Hall is in the basement of the Ruth Stricker Dayton Campus Center (22).
About Colonel Ann Wright
Ann Wright grew up in Bentonville, Arkansas, and attended the University of Arkansas, where she received a master's and a law degree. She also has a master's degree in national security affairs from the U.S. Naval War College. After college, she spent thirteen years in the U.S. Army and sixteen additional years in the Army Reserves, retiring as a Colonel. She is airborne-qualified.
In 1987, Col. Wright joined the Foreign Service and served as U.S. Deputy Ambassador in Sierra Leone, Micronesia, Afghanistan, and Mongolia. She received the State Department's Award for Heroism for her actions during the evacuation of 2,500 people from the civil war in Sierra Leone, the largest evacuation since Saigon. She was on the first State Department team to go to Afghanistan and helped reopen the Embassy there in December 2001. Her other overseas assignments include Somalia, Kyrgyzstan, Grenada, Micronesia, and Nicaragua.
On March 19, 2003, the eve of the U.S. invasion of Iraq, Ann Wright cabled a letter of resignation to Secretary of State Colin Powell, stating that without the authorization of the UN Security Council, the invasion and occupation of a Muslim, Arab, oil-rich country would be a disaster. Since then, she has been writing and speaking out for peace. She fasted for a month, picketed at Guantánamo, served as a juror in impeachment hearings, and has been arrested numerous times for peaceful, nonviolent protest of Bush's policies, particularly the war on Iraq. She lives in Honolulu.
Praise for the Book
"When the actions of government become dangerous to the security of the nation, it takes a special courage for men and women inside the government to speak out. If we care about keeping democracy alive, we must welcome this book."
— Howard Zinn, author of A People's History of the United States
"This…illuminating and remarkably impressive…book should be leaked into the government. …This book could awaken…officials to withdraw their complicity and…tell the truth to [the public]. This country will not escape further human, legal, and moral catastrophes, or preserve itself as a democratic, constitutional republic, if that does not happen. If you're at all like me, you will have a whole set of new heroes when you finish reading this. …Dissent: Voices of Conscience could change your life."
— from the Foreword, by Daniel Ellsberg
"Voices of conscience are usually smothered in spin. That the stories of these heroes are recorded here gives me great hope and shows that it is still possible to do the right thing."
— Ray McGovern, Retired CIA Analyst and Presidential Briefer for George H. W. Bush
"As a soldier and a diplomat, Ann Wright always placed her country, its direction, and its welfare at the top of her priority list. She is, without question, one of the most honest and ethical individuals I have been privileged to know. I salute Ann Wright and the powerful voices of truth heard in Dissent."
— Brigadier General (Ret.) Pat Foote, Former Commanding General, Fort Belvoir, Virginia
"Ann Wright is not one to be silenced."
— Ms. Magazine
"Ann Wright is an American hero. She has shown immense bravery and resolve in her quest for peace. For her energy and commitment to peace, justice, and strengthening democratic principles, Ann Wright has earned the first annual Truthout Freedom and Democracy Award."
— Victoria Harper, truthout.org
"Truthout has traveled the country covering the anti-war movement, and wherever we go, Ann Wright is there providing steady leadership. We recently announced that Ann was one of three recipients of our first annual Freedom and Democracy Award. I'm sure I will see her soon. Wherever there is an important event calling for peace, Ann Wright will be there, leading by example."
— Scott Galindez, truthout.org
Eyes Wide Open Minnesota
Wednesday, March 19, 2008
Noon–4:00 p.m.
Minnesota State Capitol Rotunda
Come anytime during the afternoon; stay as long as you are able.
The Eyes Wide Open Minnesota exhibit presents a memorial to those who have fallen and a witness to our belief that no war can justify its human cost. It includes a pair of boots for each Minnesota soldier killed in Iraq, shoes representing Iraqi civilian casualties, and a visual display showing the human costs of war to our communities.
Noon - Opening ceremony featuring former Senator Becky Lourey
12:30 - Reading of the names of the 4,000+ American and coalition casualties, as well as representative Iraqi civilian casualties
4:00 - Short closing ceremony
Sponsors
Sponsored by Merriam Park Neighbors for Peace and Crocus Hill/West 7th Neighbors for Peace. Co-sponsored by Friends for a Non-Violent World, American Friends Service Committee, Veterans For Peace – Chapter 27, Military Families Speak Out Minnesota, Women Against Military Madness, and Iraq Veterans Against the War – Chapter 22.
Flyers/Posters (PDF)
Full Color • Full BW • Half Color • Half BW • Quarter BW
Press Release
Human Cost of War Noted on Iraq War's 5th Anniversary: Peace activists, veterans groups host Eyes Wide Open Minnesota war memorial exhibit for legislators, public at State Capitol
Press Release by Merriam Park Neighbors for Peace
Monday, March 17, 2008
Media Coverage
More Information
march19@mppeace.org • Anne (651) 647-0580 • www.mppeace.org/march19
Post-Event Coverage
---
Spring 2008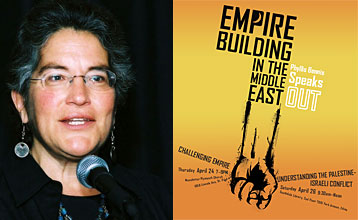 Empire Building in the Middle East: Phyllis Bennis Speaks Out
Challenging Empire
Thursday, April 24, 2008
7:00–9:00 p.m.
Macalester Plymouth Church
1658 Lincoln Avenue, St. Paul, MN
Challenging Empire
Friday, April 25, 2008
7:00–9:00 p.m.
Christ United Methodist Church
400 5th Avenue SW, Rochester, MN
Understanding the Palestinian-Israeli Conflict
Saturday, April 26, 2008
9:30 a.m. –Noon
Southdale Library, 2nd Floor
7001 York Avenue South, Edina, MN
Phyllis Bennis is a nationally renowned analyst and author with credentials focused on the Middle East and United Nations. She has been sought out by national media for interpretation of statements made by the frontrunners in the Democratic candidate endorsement contest. In April, Bennis will travel to Minnesota for presentations in St. Paul, Edina and Rochester.
Bennis is a fellow of the Transnational Institute and the Institute for Policy Studies in Washington DC, which was called "the think tank for the rest of us" by iconoclastic American journalist I. F. Stone. Formerly based at the United Nations, Bennis is the author and editor of books on Palestine, Iraq, and the UN. Recent publications are Understanding the Palestinian-Israeli Conflict: A Primer; Challenging Empire: How People, Governments and the UN Defy US Power; and Before & After: US Foreign Policy and the September 11 Crisis.
Bennis will sign books at each of these public appearances. Her hot-off-the-press new pamphlet, Iran in the Crossroads: How to Prevent Washington's Next War, also will be available.
Pre-Event Reading
WAMM recommends you download, print and read the Introduction to Challenging Empire: How People, Governments and the UN Defy US Power before attending Phyllis Bennis' presentations:
Flyers (PDF)
Sponsors
Sponsored by Women Against Military Madness (WAMM), Merriam Park Neighbors for Peace, Macalester Plymouth Peacemakers, Middle East Peace Now!, Northwest Neighbors for Peace, Pax Christi Minnesota – Rochester Chapter, and Southeast Minnesota Alliance of Peacemakers
More Information
Women Against Military Madness (WAMM)
Phone: (612) 827-5364
E-mail: wamm@mtn.org
---
Summer 2008
Minnesota Neighbors for Peace Metro-Wide Potluck Picnic
Saturday, August 16, 2008
4:00–8:00 p.m.
Newell Park, 900 North Fairview Avenue (corner of Fairview and Pierce Butler Route), St. Paul
All friends and neighbors interested in supporting efforts for peace and justice are welcome! Please join us for this fun annual picnic — a time to feast and socialize with friends old and new while enjoying a beautiful summer evening.
Please bring a dish to share as well as your own beverages, and blanket or lawn chair. Grills are available at the park and charcoal will be provided. Plates, utensils, napkins, and cups will also be provided.
Notes: No alcohol is allowed in the park and dogs must be on a leash at all times. Politicians and public office-holders are welcome to attend, but no stump speeches, please.
Whether this is your first Neighbors for Peace picnic or your seventh, we look forward to seeing you!
Sponsored by:
Merriam Park Neighbors for Peace, Crocus Hill/West 7th Neighbors for Peace, and Northwest Neighbors for Peace
---
Fall 2008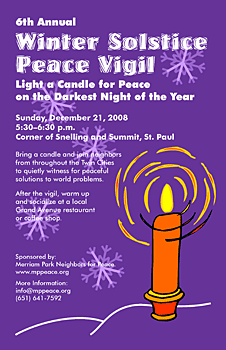 6th Annual Winter Solstice Peace Vigil
Light a Candle for Peace on the Darkest Night of the Year
Sunday, December 21, 2008
5:30–6:30 p.m.
Corner of Snelling and Summit Avenues, St. Paul
Bring a candle and join neighbors from throughout the Twin Cities to quietly witness for peaceful solutions to world problems.
After the vigil, warm up and socialize at a local Grand Avenue restaurant or coffee shop (to be determined).
If you can't attend the vigil, light a candle in your window for peace and be with us in spirit.
Flyer/Poster
Click here to view and print a flyer/poster for this event.
Sponsor
Merriam Park Neighbors for Peace
More Information
Krista Menzel or Anne Benson at info@mppeace.org, (651) 641-7592, or (651) 647-0580.