Past Events: 2011
| Upcoming Events | 2011 Events | 2010 Events | 2009 Events | 2008 Events | 2007 Events | 2006 Events | 2005 Events | 2004 Events | 2003 Events |
We are proud of our political/social education, fundraising, community outreach, and other activism events! The events listed below were presented, hosted, or strongly supported by Merriam Park Neighbors for Peace or our members during 2011.
Spring 2011
Chris Hedges at Macalester College
Wednesday, April 20, 2011
7:00 p.m.
Weyerhaeuser Chapel, Macalester College, 1600 Grand Avenue, St. Paul, MN
"Universities no longer train students to think critically, to examine and critique systems of power and cultural and political assumptions, to ask the broad questions of meaning and morality…" Chris Hedges, author of Death of the Liberal Class and The World As It Is: Dispatches on the Myth of Human Progress, will be speaking at Macalester College.
---
Fall 2011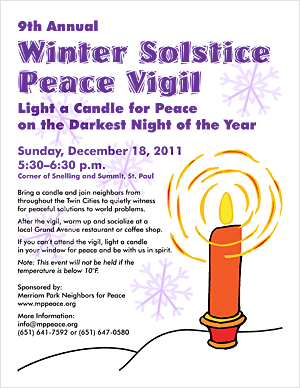 9th Annual Winter Solstice Peace Vigil
Light a Candle for Peace on the Darkest Night of the Year
Sunday, December 18, 2011
5:30–6:30 p.m.
Corner of Snelling and Summit Avenues, St. Paul, MN
Bring a candle and join neighbors from throughout the Twin Cities to quietly witness for peaceful solutions to world problems.
After the vigil, warm up and socialize at a local Grand Avenue restaurant or coffee shop (to be determined).
If you can't attend the vigil, light a candle in your window for peace and be with us in spirit.
Note: This event will not be held if the temperature is below 10°F.
Flyer/Poster
Click here to view and print a flyer/poster for this event.
Sponsor
Merriam Park Neighbors for Peace
More Information
Krista Menzel or Anne Benson at info@mppeace.org, (651) 641-7592, or (651) 647-0580.